A Creative Advantage for Modern Business

We are marketers.
We are a team of attention-grabbers and design-centric storytellers who are experts in our respective fields, and at the top of our game. We are passionate collaborators, design thinkers, and tech gurus, and we have a soft spot for small business leaders looking to leap.
Our job is to guide your audience to awareness, then onward toward promotion. We use visual design, messaging, technology, and analytics to build assets, conversion paths, and growth campaigns that scale your business with the comfort of predictability and ROI.
"Sounds great, but how do you do it?"
We start with your

audience

first, and get them totally

pumped

.

A plan, a framework, a process...you can call it a "recipe for grandeur" if you'd like. We do. Whatever you call it, it's kind of like that "sharpen the axe" story:
A woodcutter gets a job cutting trees, but despite his efforts, his yield continues to decrease day after day. He's confused and discouraged. Then one day his boss asks, "when was the last time you sharpened your axe?" He replies, "I don't have time for that."
It's easy to sometimes forget to sharpen your axe. Instead, the pull is to focus on your offering(s), the day-to-day grind of business, and piecemeal marketing efforts that don't yield the predictability or cohesion you need.
This is where we come in. We optimize the customer experience by building a foundation (Brand Strategy), targeting your audience (Digital Marketing), and giving your customers an experience they will share and keep coming back to (Customer Journey). In short, we help keep your axe sharp.
Let's take a closer look: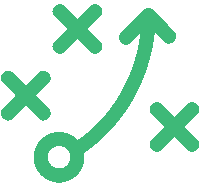 Audience, offering, competition, positioning, messaging, communications, and assets. We evaluate strengths and weaknesses, direct and indirect influences, explore differentiation and various touchpoints and channels.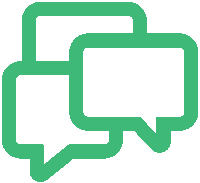 This is the execution phase. When all the upfront work of brand analysis and strategy comes to roost. We turn cold traffic hot, brand awareness campaigns into conversions. And we never forget retention when executing for acquisition.
Believe it or not, your product or service may not be enough in our attention economy. Marketing has changed. Conversation is your new lead, community is your new brand. Your new customers are out there waiting. Give them a ride.

Regardless of whether your project is big or small, our initial approach is always the same. In order to be truly effective, we need to do our due diligence. We research, validate, communicate, and THEN execute. Ensuring that all of what is created is cohesive with your business goals, and that the end result keeps you on the path you envision.
Brand Strategy
Brand Visual Identity
Content Marketing
Marketing Analytics
Mobile App Design / Development
Email Marketing
Print Collateral
Retargeting
Search Engine Marketing (SEM)
Search Engine Optimization (SEO)
Social Media
User / Customer Experience
Virtual / Augmented Reality
Web Design / Development

Our job is to help put you in the best position for acquiring new customers, then keep them coming back. When the customer journey is sound, customer acquisition is more predictable and the foundations for retention will be set. Hooray!
Contact us today, and we can begin. We look forward to working with you.
Need help? Ready to get started? We have you covered.
---
If we can help in any way, there are four ways for you to reach us:
Call 360-305-3662. Our office hours are 8-5pm PST Monday-Friday.
You can also email us at support@zafha.com.
Or if you prefer, use the form provided.
If you are a current customer, remember you can also use Slack for questions, collaboration, etc.
Connect with us: