Drive More Customers With Google My Business
---
You know that online visibility is key to attracting new customers as a business owner. And one of the best ways to boost your online presence is through an optimized Google My Business (GMB) profile.
But there's a little more to it than just creating a listing on the platform. To get the most out of Google My Business, you need to optimize your listing for Local SEO and Google Maps.
Optimizing your business listing will give you more opportunities to make it easier for people to find your business information and location, as well as products, reviews, and ratings that appear in the search engine results.
A Google Business account should be part of any digital marketing strategy, so we've compiled all the helpful information about it and a guide to help you get the best out of your GMB for maximum visibility and results.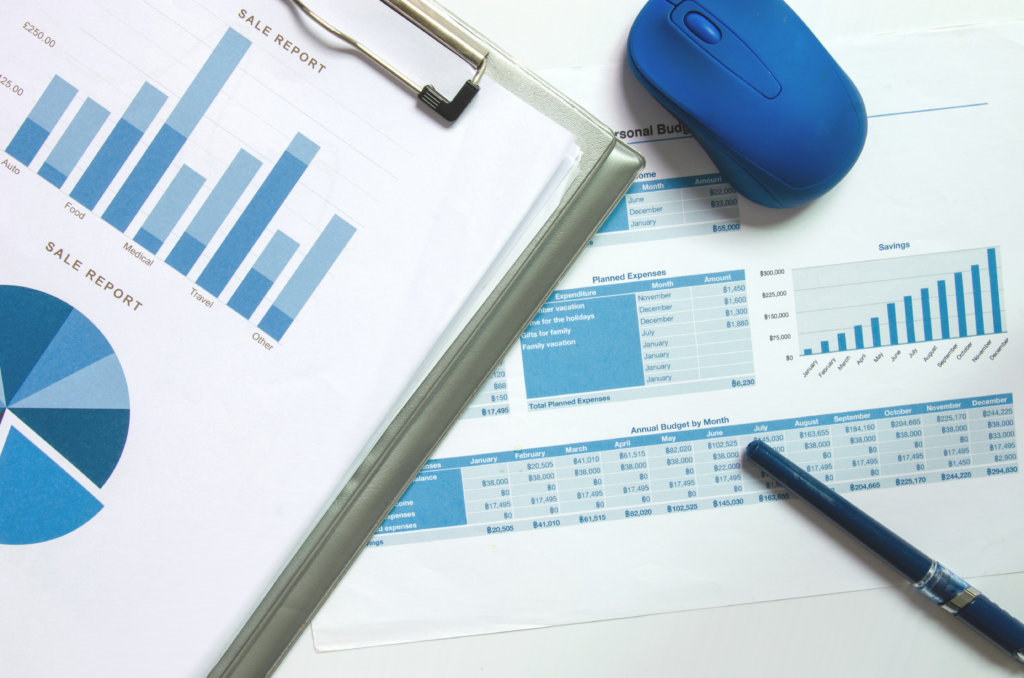 ---
First of all, what exactly is Google My Business (aka Google Business Profile)?
Google My Business is a free listing platform that allows businesses to manage their online information and be found by potential customers who search for them.
This information includes your business name, address, phone number, business hours, website, photos, products, posts, and most importantly, ratings and reviews from previous customers.
As you can see, this is a perfect tool for any local business that has a physical store or offers local services because it makes it easier to appear in the SERPs (search engine results pages) and Google Maps, therefore driving web traffic, phone calls, or even direction requests.
It's important to note that claiming and maintaining a Google My Business profile is not only for local brick-and-mortal businesses. Recent Google algorithm updates have shown to give favor to even online only (ie. e-commerce) companies who acknowledge their local presence. This represents the continued effort by Google to offer, among many other things, transparency and community to its users.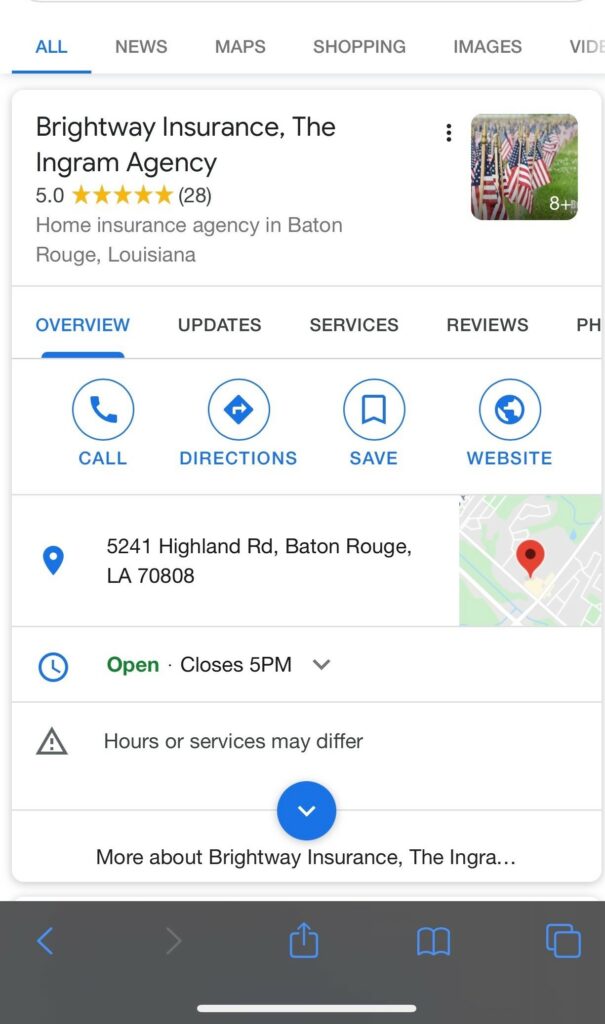 ---
Google My Business Benefits in a nutshell.
Make it easier to find customers within your area.
Google My Business (GMB) is a powerful tool to enhance your Local SEO strategy (the process of optimizing your online presence to attract more customers from your specific geographical area).
When someone searches for a product or service that your business offers, you want to make sure that your service or product comes up first in the search results.
This study reveals that 53% of users performed a local search to find businesses near them at least once per month. That's a lot of potential new customers right around the corner!
Not only that, but users can also see important information, click on your web page, or even visit your store directly if they're nearby.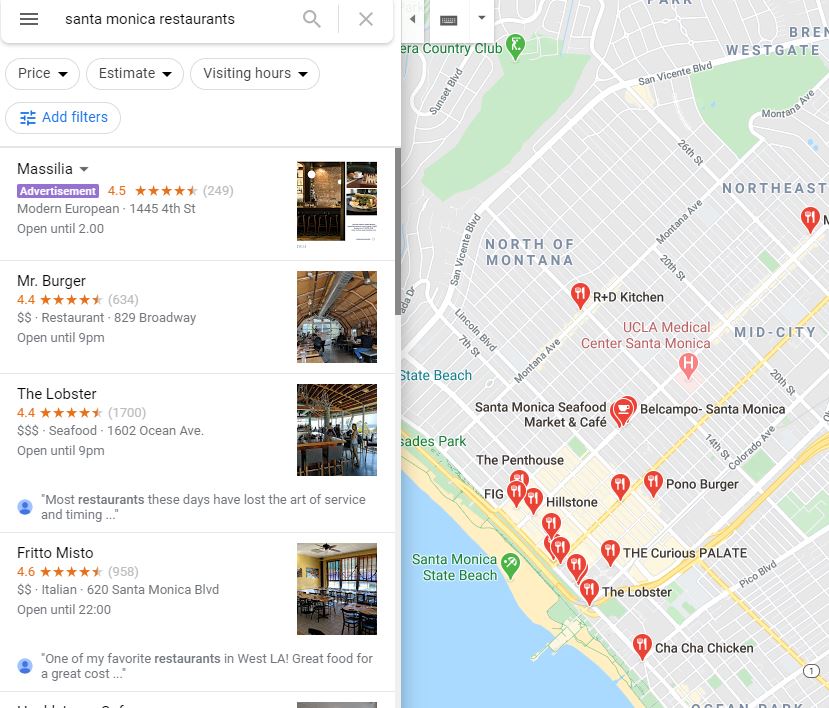 Build authority for your business with Google reviews.
According to this survey by BrightLocal, only 3% of people surveyed said they would contact a business with 2-star ratings or less, and 77% of consumers established that they 'always' read user reviews when they consider a business.
GMB's positive reviews are word-of-mouth for online marketing.
That's a key insight you should keep in mind when elaborating your marketing strategy because it gives your business reputation and prestige within its category.
You can also monitor negative reviews and answer them accordingly. It's always best to respond to these and even offer them a discount or other benefit than just leaving them unanswered.
Even the Google algorithm will consider your business listing more credible if you have a couple of 'ok' reviews or even bad ones but remember to always answer them properly.
Pro-Tip
Persuade loyal customers to leave a review for your business by sending them an automated e-mail asking them about their experience. You can also share with them a link that GMB automatically generates and makes it easier for customers to share their opinions.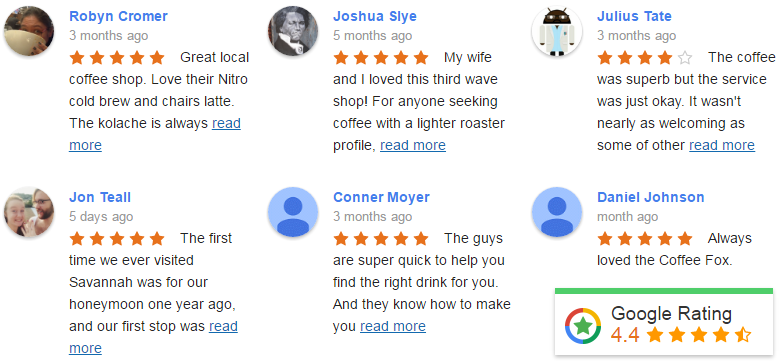 Run Google Ads search extensions.
There is also the possibility to use your Google My Business profile to run local search or Google Maps ads if you want to boost your results more quickly.
Google Ads allows you to connect your GMB profile to your ad account and enable local extensions which are a type of ads that contain useful local information such as a business address, the distance from their location to your place, and a clickable call to action button.
Select the keywords that are more relevant to your business and that your customers are likely to search such as "Best real estate agents near Bellingham" or "Italian restaurants near me".
These ads will show your business listing in multiple Google locations such as Google Maps, Google Display Network, and Youtube.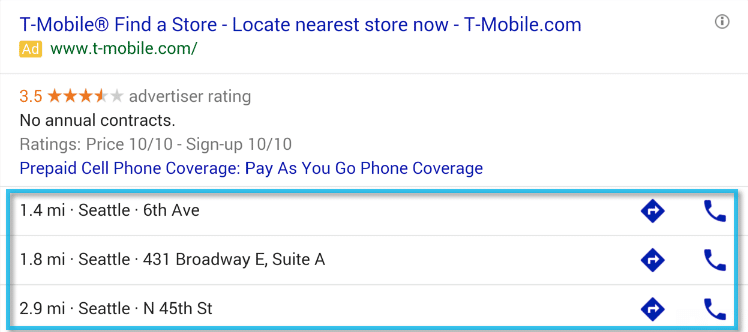 Communicate with your customers through Google My Business Messages
Last but not least is the ability to send messages through the GMB platform. Leaving your business phone number or social media contact isn't enough, since most customers would instead instantly message you than give you a call.
Pro-tip
There are several CRMs and integrations APIs that allow you to monitor and respond to your Google My Business messages instantly so you don't lose any leads by responding too late.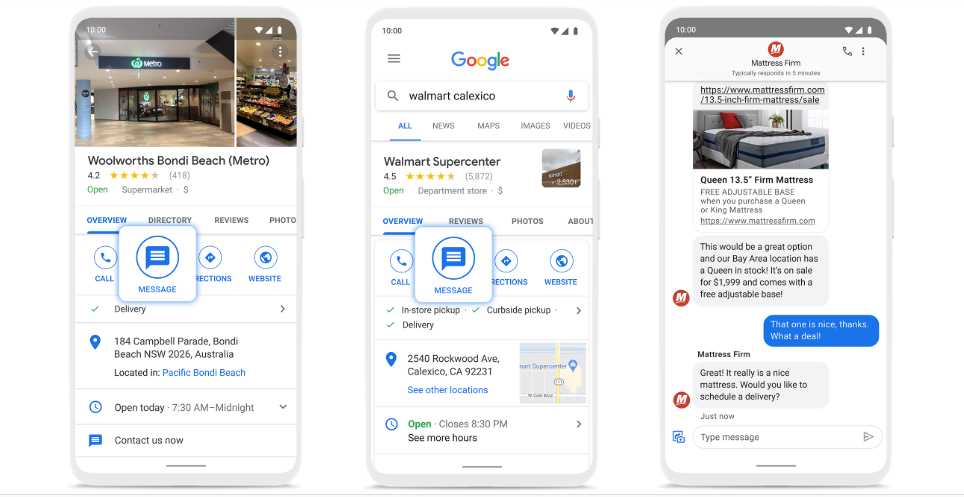 ---
How to optimize your business listing for local SEO
There are a few key things you can do to optimize your GMB listing for local SEO:
1. Choose the right category
When you create your GMB listing, you'll need to choose a primary category for your business. This is important because it helps Google understand what your business does and how it should be categorized in search results.
So take some time to think about the most relevant category for your business. For example, if you're a plumber, you might choose the category "Home Services > Plumbing."
Be specific since this will help the algorithm.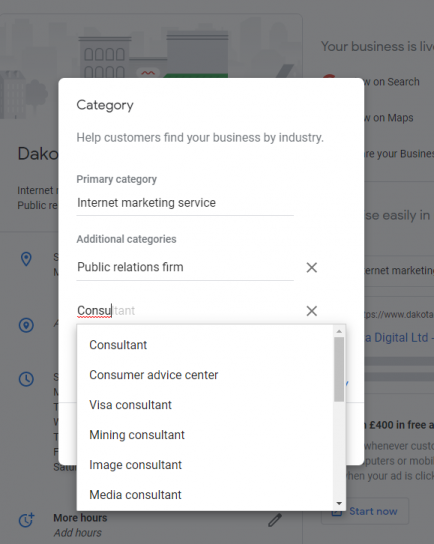 2. Add keywords to your listing
When potential customers search for businesses like yours, they'll typically use keywords or phrases. So it's important to include these in your GMB listing.
Some places where you can add keywords to your listing include business posts, business descriptions, and photos. Just be sure to use keywords that are relevant to your business and that potential customers are actually searching for, and not just stuffing keywords.
Pro-Tip
Consider using tools like Moz or SEMRush when optimizing your profile info using relevant keywords for your business. Don't forget to use local keywords like "Bakeries near Seattle", since those are the most effective for GMB.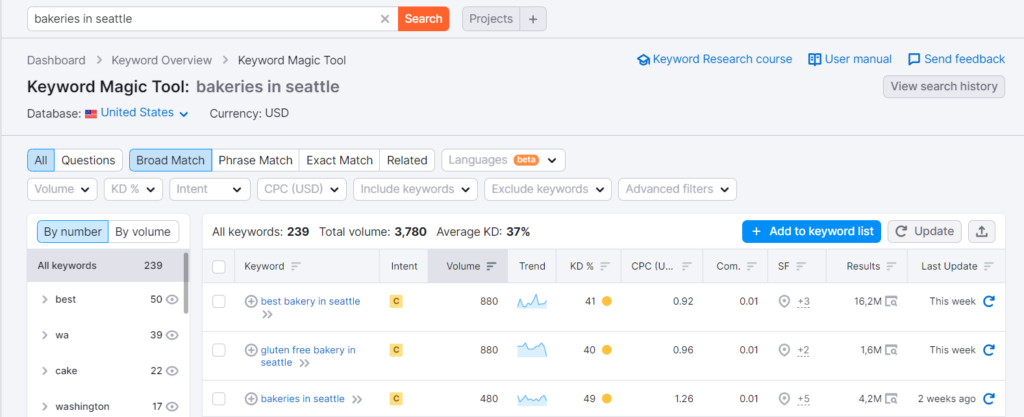 3. Add photos and videos
Adding photos and videos to your GMB listing can also help you attract more customers. People are visual, so adding photos and videos of your business is a great way to grab their attention and make you look more trustworthy.
Some ideas for photos and videos include pictures of your products or services, your store or office, and your team in action. Videos could be a tour of your business, a customer testimonial, or an instructional video showing how to use your products.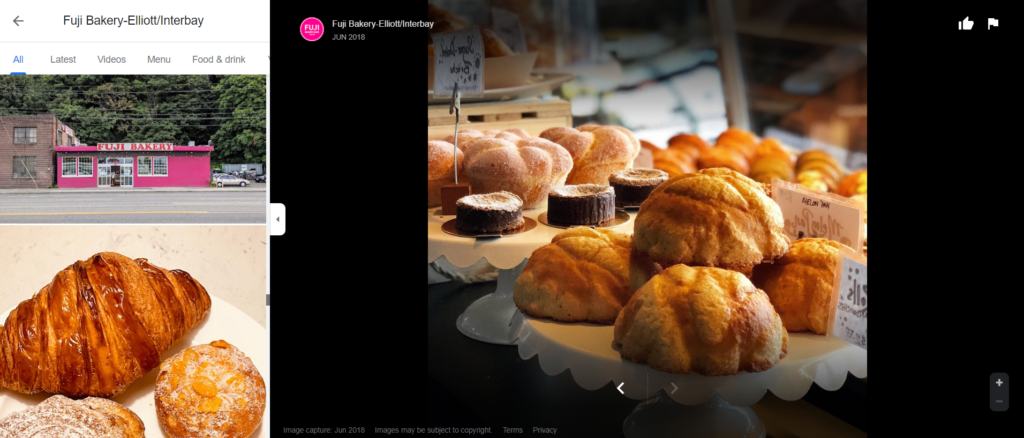 5. Keep your information up to date
It's important to keep your GMB listing information up to date so that potential customers always have the most accurate information about your business. This includes things like your business name, address, hours of operation, and contact information.
You can edit your GMB listing information directly on Google or through the GMB app. Just be sure to double-check your listing after making any changes to make sure everything is correct.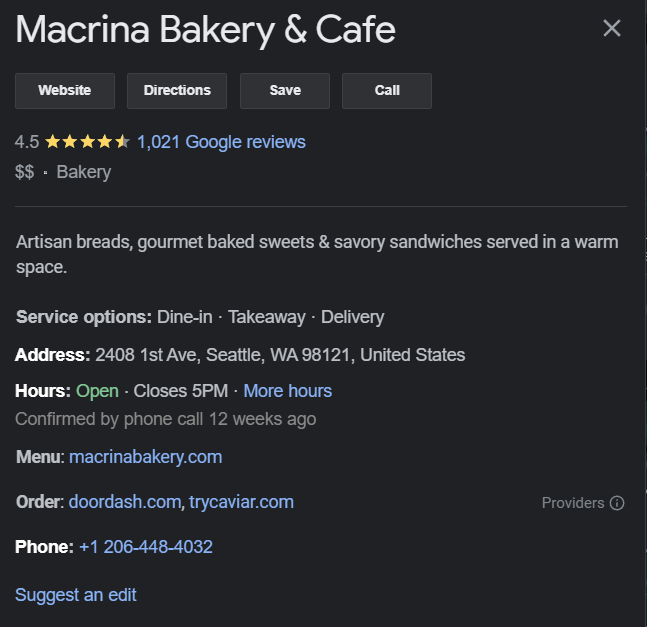 ---
A step-by-step guide to creating your own Google My Business Account.
If you already have a Google Account then you can already access this feature, if not simply create a Google Account and use those account credentials to create a new profile from the start.
2.- Add your business to GMB
Type in your business name, if it's not in the list just click on create a new one and then select the most appropriate business category. Remember to be specific and take your time to look at the most appropriate choice since this will affect other setup requirements further.
Google will let you add a secondary business category as well for more accuracy, but the primary one will be the most important for the algorithm.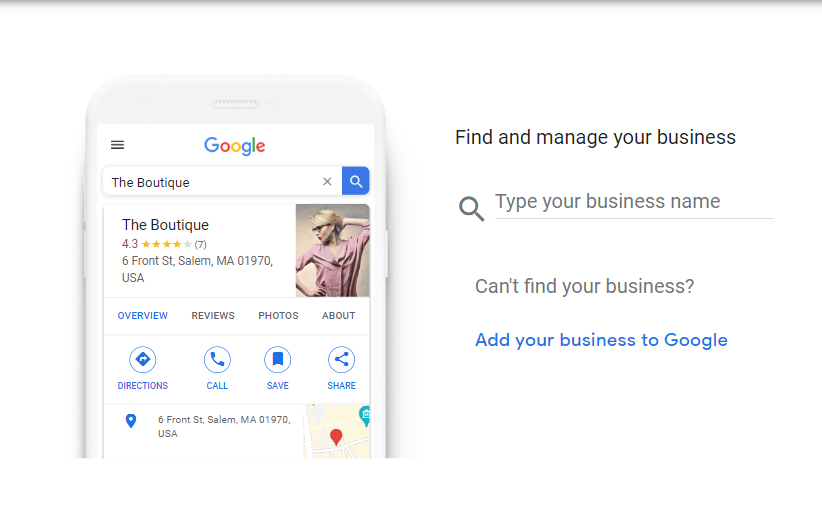 3.- Select your business location
Click Yes if you have a store or physical location customers can go to. You'll have to mark down the exact address in Google Maps. If your business offers in-person services then just select your service areas.
There is also the option to add multiple locations if you have more than one store or are a service area business with more than just one place to cover.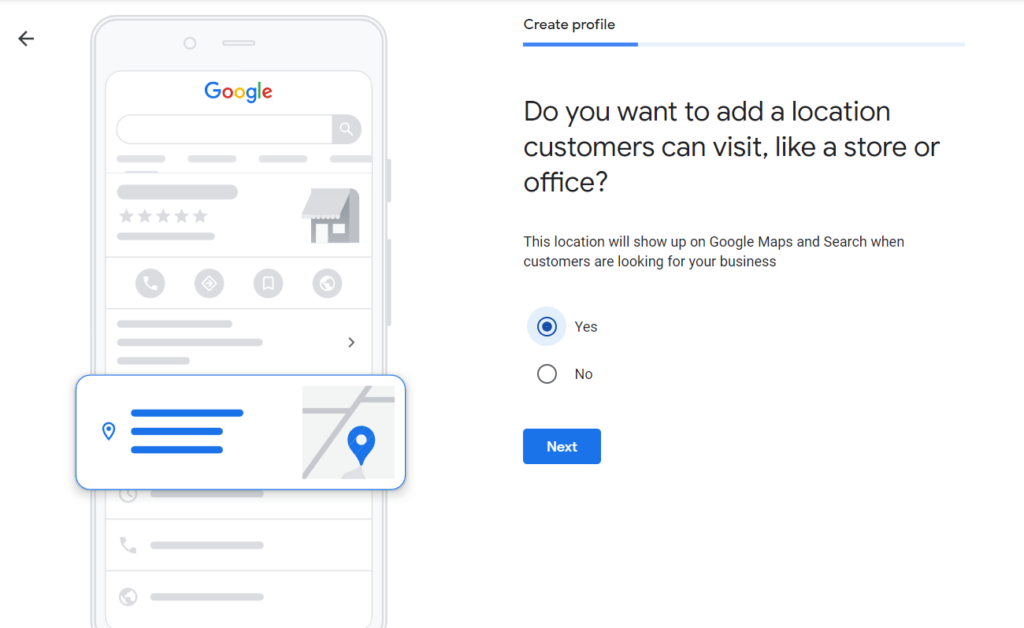 4.- Fill in your contact information
Here you'll have to type your business address, phone number, and website URL. Having a phone number is optional, however, is highly advisable to have a number so potential customers can reach you directly.
You can also add a brief business description that should be optimized with some relevant keywords and explain clearly what your business is about.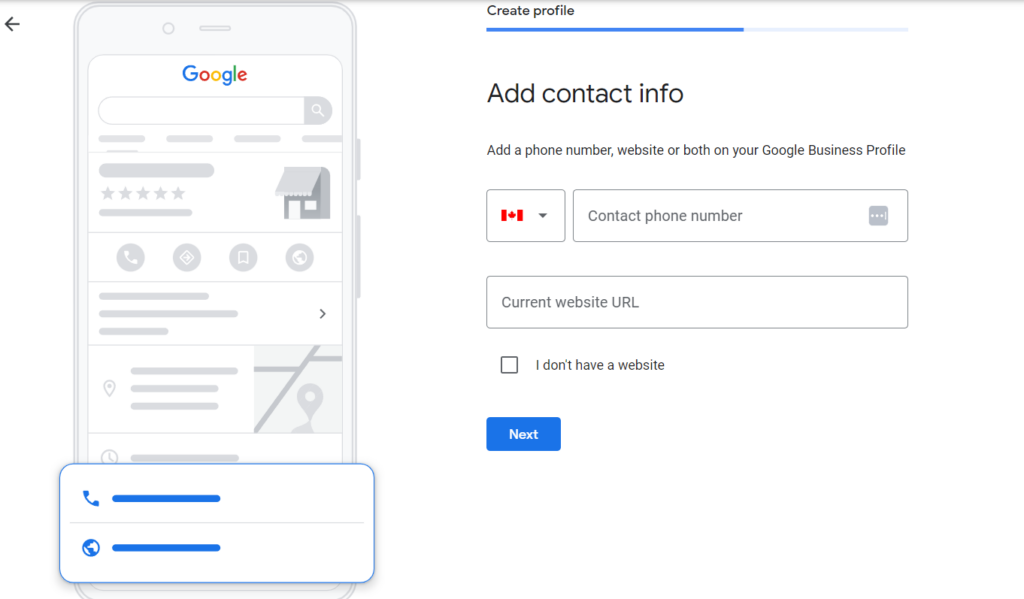 5.- Verify your business
Use your business address (not a post office box) and Google will offer you different account verification methods depending on the type of business and area of service you have.
These methods can be verified through a postcard sent by mail with a secret code, others business can be verified through a call and by sending real pictures depicting your business place, logos, and other things; some can be verified only using an email code.
It is important to do these steps correctly since Google wants to know that real businesses are being displayed in their network and the more proof they have of the legitimacy of your business, the more likely you'll get results.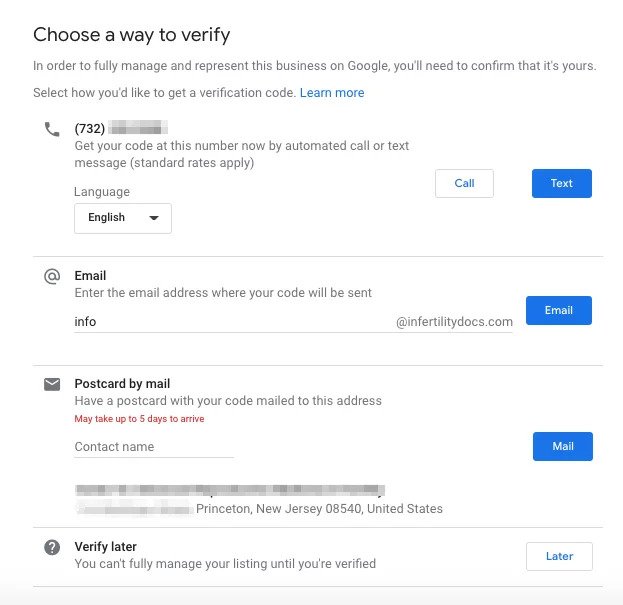 6.- Customize your Google business profile
Now you'll have access to the Google My Business dashboard, this will be the main place where you'll put in all of your information such as business hours, messages, logos and photos and so much more that you can use to optimize your profile.
Make sure to use an appropriate branded cover photo for your business. The cover photo should be 1024 x 576 pixels (a 16:9 ratio).
Remember that optimized profiles have a 2.7 higher chance of being selected by customers and businesses that have all complete and accurate information are more likely to appear in the search results.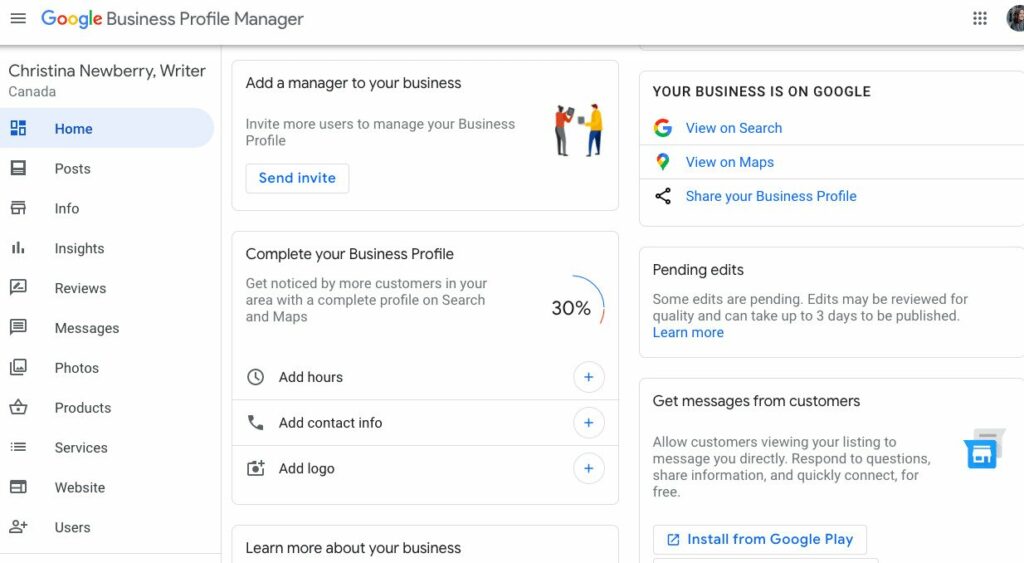 Pro-tip
Google uses three factors to evaluate a GMB profile. These are relevance, distance (from the user to the business location), and authority (the overall trust score Google assigns to your business listing depending on SEO factors, reputation, reviews, etc).
So make sure to keep all of these factors on your radar to get relevant searches for your business profile.
---
Types of Google posts to boost your visibility.
Google My Business gives you four different kinds of posts that you can periodically add to your business profile to keep customers engaged or generate awareness. Depending on your kind of business some of these can be very useful in many various ways.
Events
You can inform your potential customers of upcoming special events or occasions of your business with events posts. These have two different characteristics from other types of posts:
They don't expire after 7 days, but once your event date has passed.
You can add specific titles to them announcing your event.
Pro-tip
Make sure to document all of your events with photos and videos that you can share later with your audience to enhance the feeling of community and trustworthiness.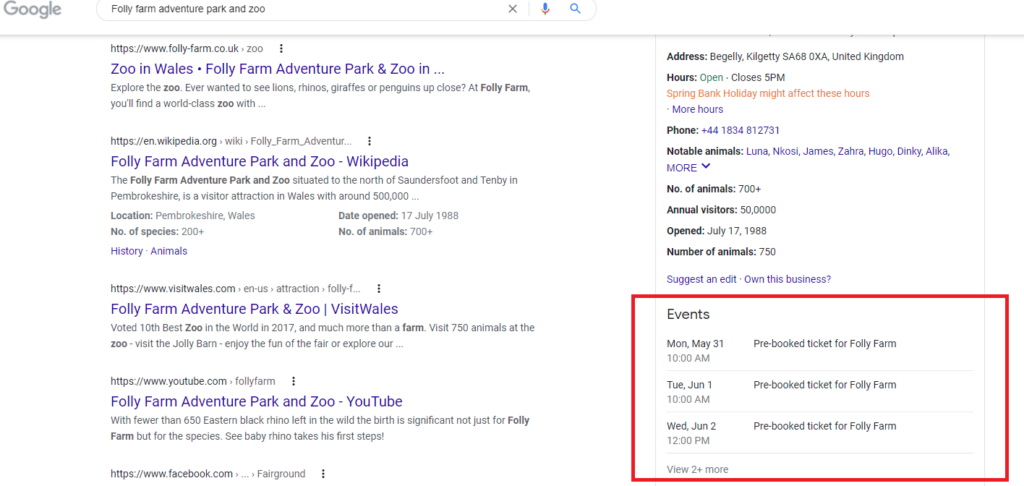 Special Offers
These Google posts work excellent for an eCommerce or physical store since it lets you showcase your best products with high-resolution pictures and details about the discount your promoting with a small description.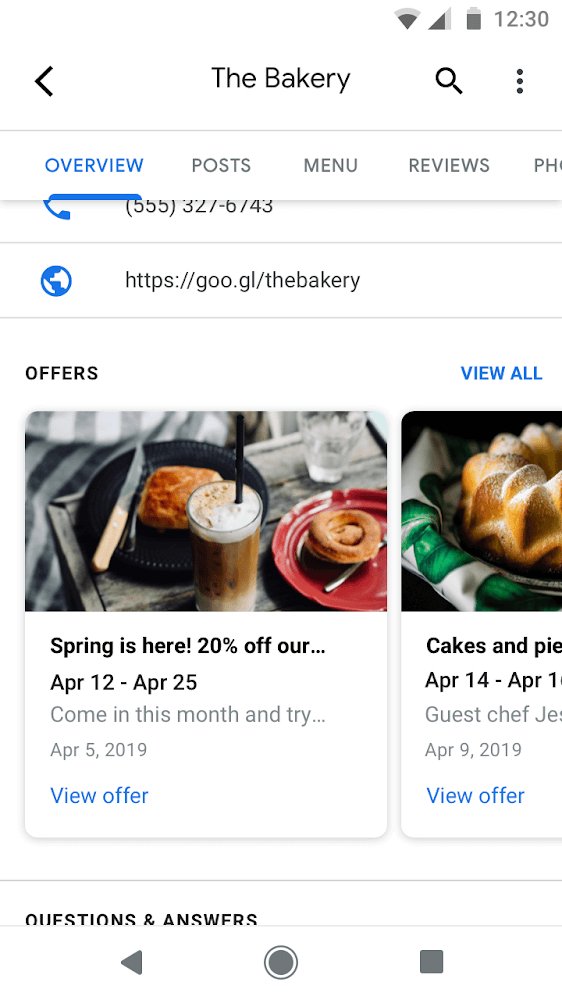 Product Updates
These posts are the perfect way to introduce or advertise new product lines or any new changes to the current ones. Make sure to use optimized photos with high-resolution and a description that not only is appealing but also targets keywords for prospective customers.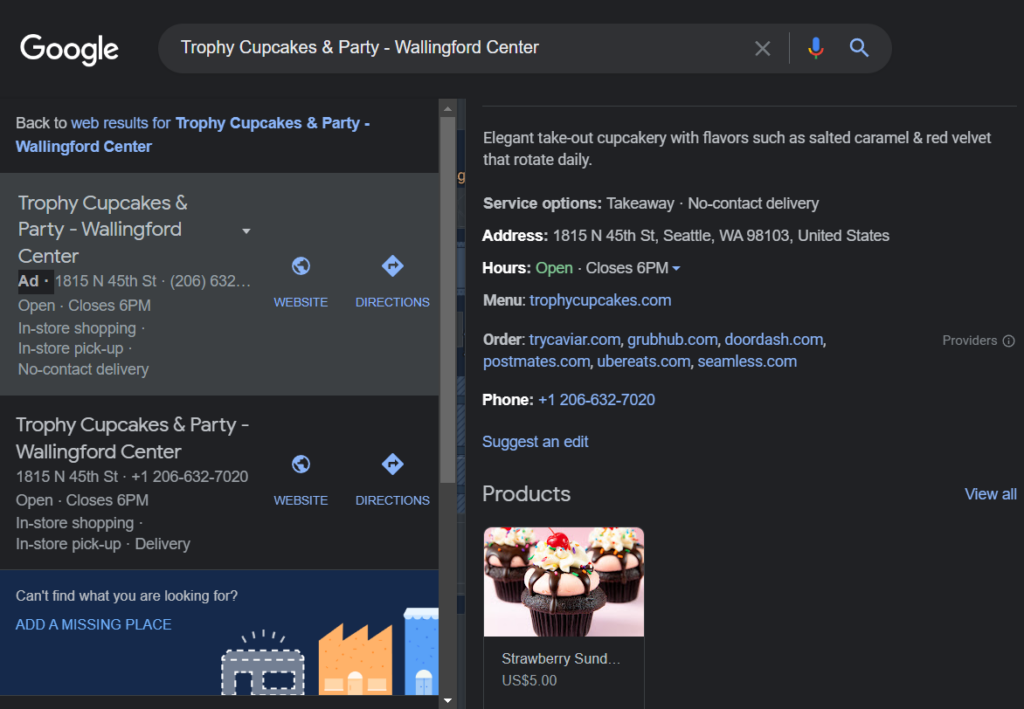 Announcements or What's New
Communicate with your audience by posting useful information or branded content to gain credibility. Provide value such as announcing new location openings, updates on events that have gone successfully in the near past, or small articles related to your industry that keeps your audience engaged.
You can add photos, videos, a business description, and a customizable call-to-action button.
Pro-tip
Making your posts clear and concise between 150 and 350 characters would be the ideal way to make the most out of this format. Also, make sure to check all of the Google My Business content policies here. Breaking the rules will result in lowering your quality score and even banning your content entirely.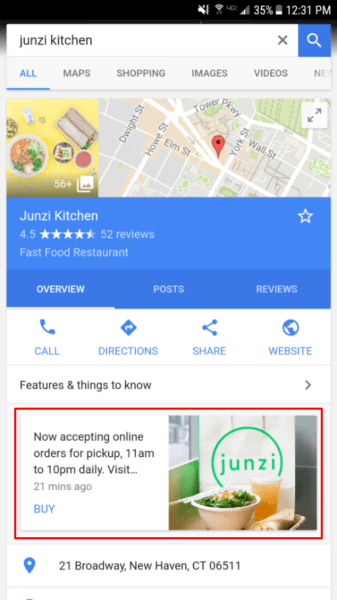 ---
Google My Business Insights – If you can't track it, how do you know if it's working?
One of the best GMB features is the ability to track the results of your posts and the overall metrics of your business profile. As you might know, this is a huge advantage of digital marketing compared with other traditional channels.
Discover how consumers are finding your Business Profile
Google lets you know how customers are finding your business listing in four different metrics:
Direct Searches: People that typed your business name directly
Discovery Searches: People who have searched for a product or category and found your google business profile.
Branded Searches: People who find your listing searching for a company similar to yours.
Total Searches: The total amount of searches performed by customers.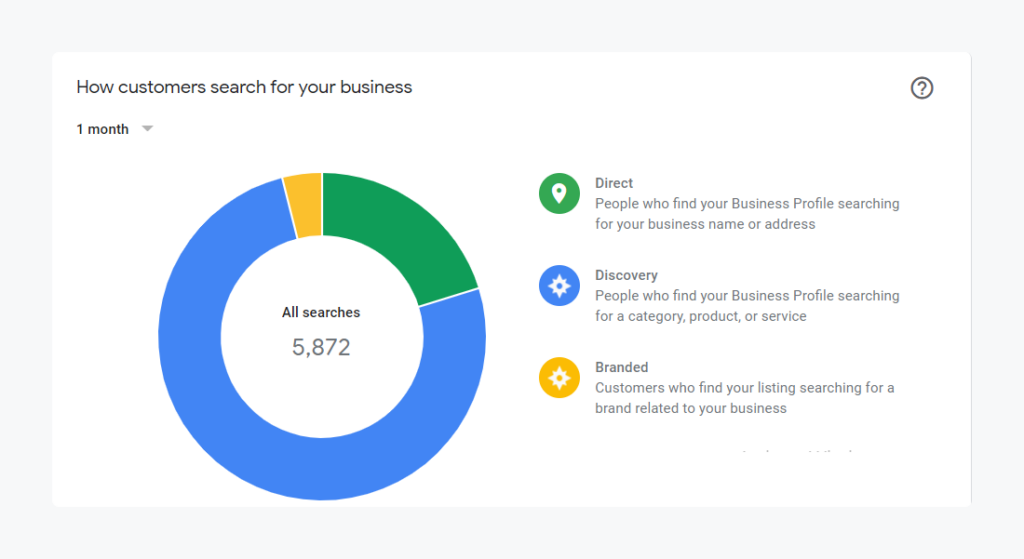 Find out where your customers are finding your Business Profile
In this section, you can see the sources of your GMB traffic to help you take action and leverage the best-performing sections.
View on Search: People that fund you through the local search results.
View on Maps: People that found your business profile through Google Maps.
Total Views: From all sources.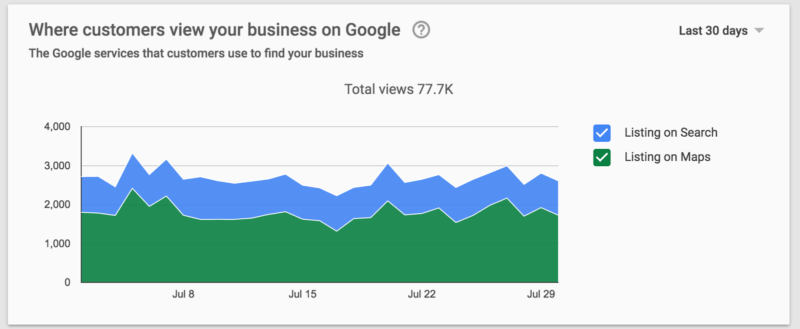 Measure what actions your customers are taking in your Google My Business profile.
This section shows behavioral statistics about your customers and gives you the most powerful data for optimization and conversion (some examples may not be applicable to your business category):
Visits to your web page: Number of people that have clicked on your website URL.
Request Directions: Customers that clicked on the directions to get to your business location.
Calls: Unique clicks on phone calls call-to-action.
Messages: Number of unique messages received.
Bookings: Number of bookings made. To be able to access this data, you'll need to complete a few more steps in your setup process that you can find here.
Food Orders: Number of food orders for pick up or delivery.
Product Views: Unique number of clicks for a particular product listing.
Total Actions: A summary of all of the above.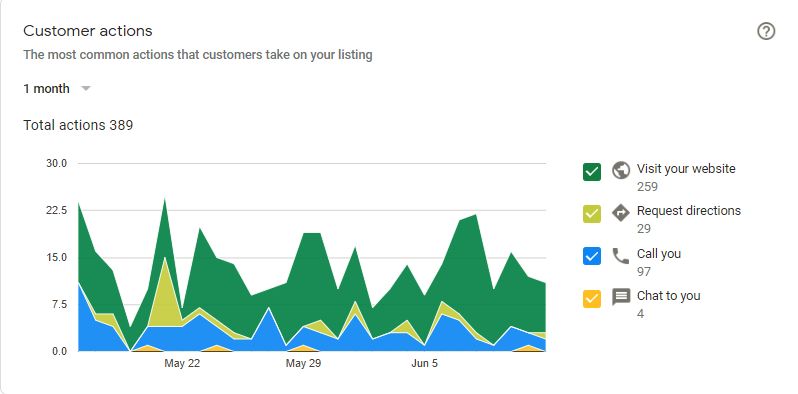 Wrap-up and Conclusion
Google My Business is a powerful and sometimes underrated tool that business owners can get and use (for free) for boosting brand awareness and conversion.
The statistics show that people are using local search more than ever to find services and products, so it's extremely important not just to have a profile but to use this tool as a value provider for them and your business.
If you want to know more on how to use Google marketing tools check out our other resources, or if you are ready to take your business to the next level, contact us today.
This could be the start of something great.
First and foremost, we're problem solvers.
Let's chat, and see if what we have to offer is a good fit for you.
We want to simplify your marketing. Our goal is to provide you with clear-cut solutions that have transparent pricing, fit into your overall strategy, and give you the return you expect.
We are lucky to have worked with many companies, across different industries. Here is a sample. Take a look, and let us know if any of these solutions would be a good fit for your business.